Esbjerg Golf Club has two golf courses: the recognised Marbæk Course, and the other 18-hole Myrtue Course. Both courses are challenging regardless of your level and offer scenic surroundings as well as valuable golfing experiences for everyone
If you want to challenge yourself and your game and have a nice time with family and friends, Esbjerg Golf Club welcomes you.
Here, you will have the opportunity to challenge yourself in all aspects of the game on the highly ranked championship course Marbæk, while the Myrtue Course is guaranteed to challenge you in your short game around the greens.
The Myrtue Course offers varied holes with a lot of opportunities for beginners as well as seasoned players to challenge themselves.
The Marbæk Course is famous and recognised by players far beyond the country's borders. Not least because it is a true championship course that has hosted several big tournaments, including four European Championships and four Challenge Tour events.
Whatever course you choose, you are guaranteed a good golfing experience.
Green Fee Prices
Esbjerg Golf Club has tee time booking, and we operate with differentiated green fee prices depending on the day and time of day.
To book a tee time, please contact the club's front desk staff via the contact information below.
Included in the gree fee price is one round of golf on the chosen course, free use of the driving range, free trolley rental and an electronic course guide (app).
If you wish to book a buggy for your round, this must be done well in advance. The price is DKK 300.- per round per buggy. To book, please contact the club's front desk.
Note: It is not allowed to bring a dog to our courses.
Do note that when booking a tee time outside the opening hours of our front desk, you must contact our front desk, using the above contact information, to get a discount when playing with a member, to redeem an old green fee voucher and to pay in cash.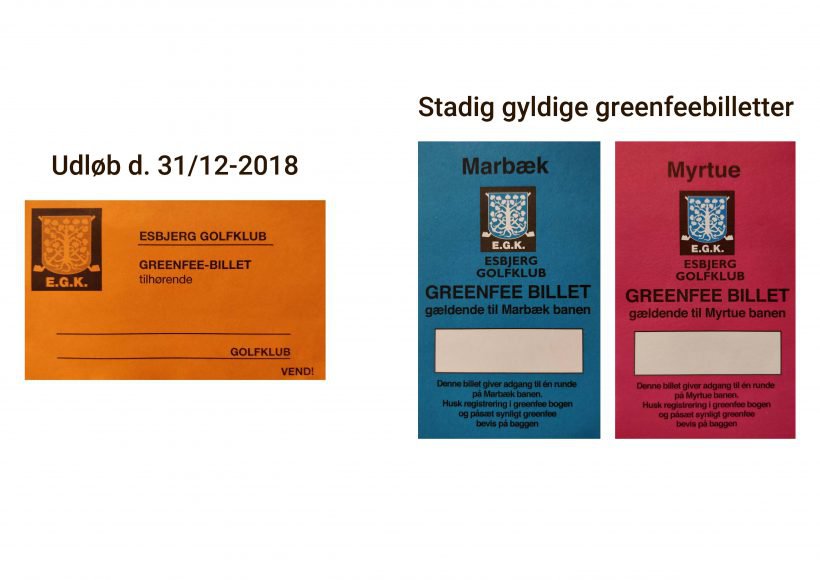 The green fee voucher on the left is no longer valid.
Choice of Tee
If you are in doubt which tee to play from, we have made a recommendation according to your handicap to give you the best experience on our golf courses. The front desk can also guide you about this. Here you can see the recommendations so you know which tee to play from before you arrive on the course. Recommendation for Myrtue and recommendation for Marbæk.
Food
The golf club's restaurant, Restaurant JC, is located on the first floor of the clubhouse. Here you can of course enjoy a delicious meal with a beautiful panoramic view before or after your round.
When Visiting in Big Groups
If you come as a big group, you can get a special menu.
You can also contact our front desk when booking your tee times if you have any requests or just need help booking. We are always ready to help you. If you want your scorecards made ready for you and your playing partners, our front desk staff will be happy to help you.
Getting Here
Esbjerg Golf Club is located on the west coast of Denmark between Esbjerg and Blåvand, in the plantation called Marbæk.
The Pro Shop B&J BetterGolf
If you need anything for your round of golf, or perhaps something new for your golf bag, our pro shop B&J BetterGolf has everything from tees to golf balls, equipment and apparel from some of the most well-known brands in golf.